Travel
Buffalo rides become popular in Hoi An
A company in Hoi An has launched a tour with buffalo rides which helps visitors understand about the farming work of local people.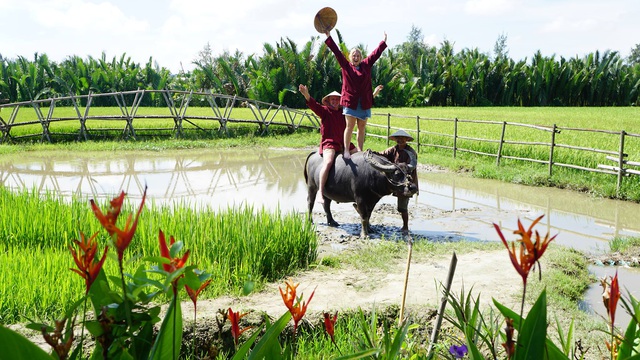 Buffalo rides become popular in Hoi An

Tran Van Khoa, director of Khoa Tran International Tourism Company realised that there was high demand for tourists to explore the countryside in Hoi An so invested hundreds of millions of VND into making buffalo cart and encouraged farmers in Cam Thanh Commune to raise buffalos for tourism.
Khoa has co-operated with 30 farmers this year on training courses in foreign languages and receiving tourists. Instead of sweltering on the fields, those buffaloes are also much more pampered.
Le Nhien from Cam Chau Ward has 25 buffaloes and five of them are rented for tourism. "I used to have two buffaloes to work in the fields. Now each month, the company pays me and my buffaloes VND15m (USD649). Many tourists came to us, showing newspaper photos about the tour. They said they found it interesting and want to see it first-hand."
Those buffaloes are only used to model for photos or work a little to help tourists understand more about the work in the fields. They are specially trained to be tourist-friendly and understand commands. Each buffalo can bring back VND500,000 to VND1m a day for the owner.
Many tourists from Europe and America like to explore the countryside in Hoi An as well as the rice paddy work. After this tourism model became successful 10 years ago, many other tourism firms also followed. It is estimated that up to 50 households in Hoi An provide 60-70 buffaloes for tourism purposes.
According to Khoa, his company served 2,000-3,000 customers each month. In 2020, the tourism sector was badly affected due to Covid-19. Khoa said he has adjusted the plan to aim for the domestic market. His company lowered the prices by half to attract more tourists.