Place
Domestic tourism gets boosted again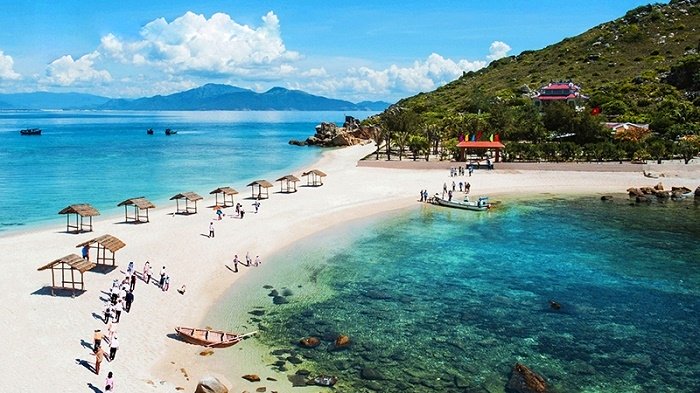 A beautiful beach on Yen island, an attractive destination for visitors to Khanh Hoa province.
NDO – This year's Reunification Day (April 30) and May Day holiday will last up to four days from April 30 to May 3. The holiday will take place at a time when the COVID-19 pandemic has been basically brought under control, creating favourable conditions for domestic tourism to be boosted again. It is to be seen as a "golden" opportunity to stimulate domestic tourism and help the "non-smoke" industry to thrive once again.
After a long time suffering the effects of the COVID-19 pandemic, travel demand has increased, particular for the upcoming holiday. As of April 20, many prestigious travel agencies have completed 80% of their sales targets for Reunification Day (April 30) and the May Day holiday.
Accordingly, major tourist companies such as Vietravel, Saigontourist, Hanoitourist, and Flamingo Redtours have received thousands of bookings every day, with the most popular destinations picked by customers including Da Lat, Vung Tau, Da Nang, Nha Trang, Phu Quoc, Ho Chi Minh City, Sapa, and Mui Ne. As usual, beaches still win much favour from tourists for their summer vacations.
Since March, tour agents and airlines have launched promotional tour packages to meet the increasing travel demand of customers for the occasion. For example, Vietravel offers its customers tours starting from only VND699,000 while Flamingo Redtours has launched thousands of tours with prices discounted by up to 30%.
In a similar move, domestic airlines have launched thousands of low-cost air tickets and increased their number of flights.
The Vietnam Airlines Group, comprising Vietnam Airlines, Pacific Airlines, and Vasco, said it will add nearly 500,000 seats, equivalent to about 2,600 flights, for the upcoming four-day holiday. Of which, national flag carrier Vietnam Airlines and Vasco will operate nearly 2,100 flights with 403,000 seats during the holiday.
Flights have been added on routes to popular tourist destinations such as Hanoi, Ho Chi Minh City, Da Nang, Quy Nhon, Da Lat, and Phu Quoc Island, with diverse schedules.
Meanwhile, Bamboo Airways plans to increase its flights to tourist attractions by 12-15% on routes to Quy Nhon, Phu Quoc and Nha Trang.
According to Phung Quang Thang, Director of the Hanoitourist Company, the COVID-19 pandemic has changed people's travel behaviour. Instead of full-package tours, visitors now prefer to travel in small groups with friends and family members in order to avoid travelling on public transportation and steer clear of gatherings with strangers. Travel companies have then made quick adaptions to fit customer demand by launching flight + hotel travel package deals.
In the context of Vietnam has not yet having opened its doors to foreign tourists, the tourism industry can only save itself by focusing on domestic visitors. Therefore, tourism service providers need to improve their competitiveness by developing more innovative products.
In addition, travel companies have also continued implementing COVID-19 prevention and control measures to ensure the safety of visitors. Local authorities need to work out detailed responses to COVID-19, which can be promptly activated in case of emergencies. The safety precautions and preparedness are key factors for the tourism sector to get back on track in the new normal situation.