Life
Festival, theatre director perseveres amid pandemic
Director Lê Quý Dương is famous for many festivals and stage arts. Photo courtesy of the director
Director Lê Quý Dương is known as the "wizard of festivals" as he has created many memorable programmes including Huế Festival, Coconut Festival (Bến Tre), International Fireworks Festival (Đà Nẵng) and Nha Trang Sea Festival. He graduated as a theatre director from the National Institute of Dramatic Art (NIDA), Australia, and as a film director from Los Angeles Film School. He has received many prestigious domestic and international awards. He is a founding member of the Asia Pacific Bond of Theatre Schools (APB), member of the Executive Committee of the World Performing Arts Association, and president of UNESCO's International Festival Forum (IFF) and International Theatre Institute (ITI).
Inner Sanctum: You have finished directing Làm Vua (Be a King), a historical play inspired by King Đinh Tiên Hoàng (924-979). The theatre was packed during all six shows. What made the play so successful?
In recent years, artists like us have tried our best to lure audiences to theatres. Apart from water puppetry, we all know that other types of performing arts such as play, tuồng (classical drama) and opera are not attractive to audiences, especially young people. They have many other options for entertainment. So you can imagine how difficult it is to make a history-inspired play best-selling.
Firstly, I renovated the script to make it more fascinating and suitable for a 90-minute play. If it dragged, the audiences would feel bored for sure.
Secondly, the background of the stage can attract those who are curious about history and culture. I imitated the statues and architecture of Đinh Temple in the northern province of Ninh Bình to make the stage look like a corner of the royal palace under the Đinh Dynasty.
After six shows in Hà Nội, the play will be performed in Ninh Bình and HCM City. The stage is designed with light materials with an ambition to attend international theatre festivals but due to the pandemic, I am afraid that we can't perform it abroad this year.
Inner Sanctum: You are a famous director of festivals and stage arts. While festivals receive sponsorship from enterprises who want to promote their brands, stage arts don't. How do you overcome financial difficulties to direct stage art pieces?
I just focus on ideas to make the programme as good as possible. Money is a problem for producers and investors. As a director, I try to do my best with the financial conditions of the event to make an impressive programme.
Money is important but I think the idea is the decisive factor. If you don't have a good idea, something new, something impressive, you can't make a memorable programme even when you have a lot of money. When I decide to direct a programme, I just ask myself that if I like it. Inspiration and emotion bring ideas. Ideas bring content and expressions. Emotions bring me determination, creativity and intelligence to overcome obstacles.
It's obvious why festivals easily receive financial sponsorship, but stage arts don't. They are different in content, form, scale and value. A festival has an influence on thousands or millions of people. It promotes the image of a locality and increases the value of a cultural product. Meanwhile, a play has a smaller audience so it's hard to find sponsorship.
Regarding the quality of a play, a good one with a low budget still makes a stir in society. It can strongly impact people, the community and even the leaders of the country. Its value is much higher than a festival. The fact is some plays of writers Lưu Quang Vũ (1948-1988) and Tào Mạt (1930-1993) still draw people's interest now.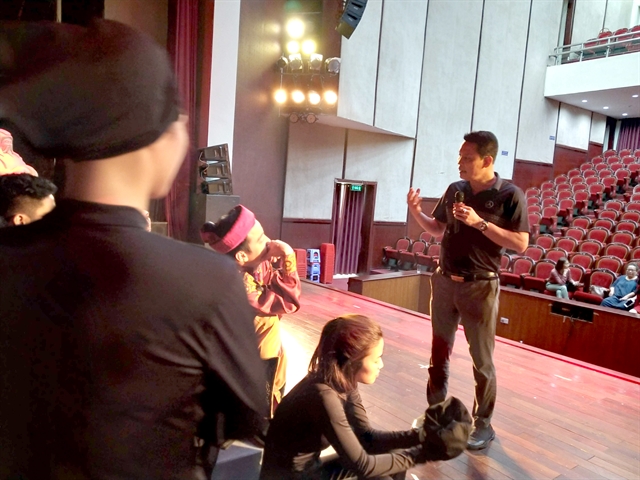 Director Lê Quý Dương instructs actors on the stage. VNS Photo Minh Thu
Inner Sanctum: How can Vietnamese performing arts approach foreign audiences?
With my experience working abroad, I realise that foreign audiences living in the country and abroad are interested in Vietnamese contemporary stage art. They have asked me that whether Việt Nam has water puppetry only. Actually, we don't have a professional stage to serve foreign audiences.
To build a suitable stage for international audiences, we have many things to do. In content, we should make artworks that reflect Vietnamese contemporary society truthfully and deeply. In form, we should tend to a unique style with Vietnamese cultural identity. In communication, we should choose suitable methods to introduce the art pieces to international audiences, via diplomats, enterprises and travel agents, for example, then we should make subtitles and advertisements in foreign languages.
Many plays have been performed in foreign countries but they don't have subtitles. What a pity that they just serve the Vietnamese community abroad, not foreign audiences. We should acknowledge performing in foreign countries and performing for foreign audiences are different. Apart from Vietnamese people abroad, we should upgrade our quality to target audiences in foreign countries.
Inner Sanctum: Many stage artists have to find some extra jobs to earn a living. Low income is the main reason they quit the theatre. What do you think about this?
I sympathise with them. Everyone needs a job to earn a living. However, low income is not the only reason. I know many artists who have a lot of passion. If there is a good script and a good director that they can rely on, they would never give up. They still pursue the work with a belief that together they can create something big.
Inner Sanctum: The local art industry has faced a challenge like never before due to the pandemic. How have you coped with?
I am no exception. I have had to postpone many projects. Many shows have been cancelled even with everything ready.
I have put my personal energy into another field, poetry. I published a bilingual book entitled Sketches of Dreams. It's a book of poetry and fine arts with 45 paintings of 15 artists. They don't make illustrations for my poems. It's the sympathy of the artists when they read the poems.
The social distancing and series of postponed or cancelled festivals have given me time for poetry. Difficulties can't stop artists from creating. They create inspiration instead. VNS