Life
Fighting disease in war and peace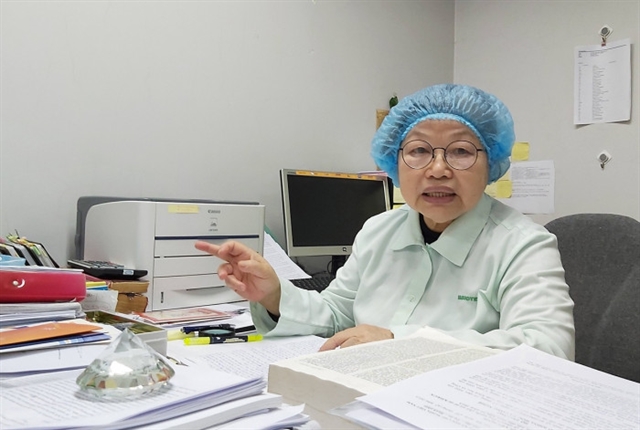 WORKING ON: Professor Huỳnh Phương Liên is still very busy researching vaccines. Photo baogiaothong.vn
by Vũ Uyên – Mai Phương
Most people in their 80s are retired and enjoying days of leisure with their family or pursuing interests and hobbies, but this is not even close to the case for Huỳnh Thị Phương Liên, a professor and researcher at the National Institute of Hygiene and Epidemiology (NIHE).
In a small room at the institute, Prof Liên, 81, magnifying glass in hand, as always, is still deeply involved in researching and recording materials for vaccinations.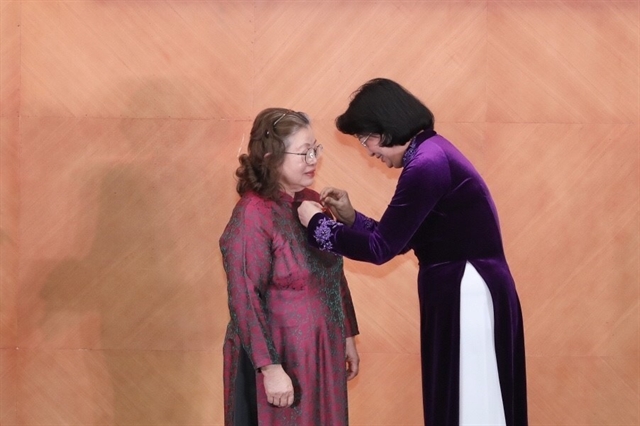 DESERVED HONOUR: Vice President Đặng Thị Ngọc Thịnh (right) presents the Hero of Labour title to Professor Liên. VNA/VNS Photo Minh Quyết
Having devoted her life to Việt Nam's vaccine industry she was recently honoured by the Government as a 'Hero of Labour in the Renewal Period' for her outstanding contributions to public healthcare.
She spent 53 years, from 1966 to 2019, on scientific research to promote the country's vaccine production and preventive medicine sector.
The distinction was presented by Vice President Đặng Thị Ngọc Thịnh at a ceremony at the Hà Nội-based NIHE last month.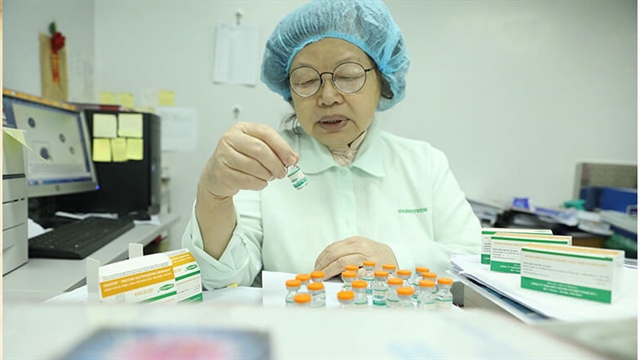 LIFETIME ACHIEVEMENT: Professor Liên has devoted her life to Việt Nam's vaccine industry. Photo sggp.org.vn
Prof Liên is currently a senior specialist at the Vaccine and Biological Production 1 (Vabiotech) company under the Ministry of Public Health, where she has worked since 2006.
Vabiotech is among four manufacturers in Việt Nam developing vaccines to fight COVID-19.
She and her co-workers have successfully produced vaccines for cholera, typhoid, smallpox, and Japanese encephalitis, in addition to the implementation of 12 State-level scientific research projects and the publication of 112 others in prestigious scientific journals.
Of particular note, the first-generation Japanese encephalitis vaccine was successfully produced and added to the National Expanded Immunisation Programme in 1997, contributing to reducing cases of Japanese encephalopathy and easing the burden faced by people suffering from disease and by society as a whole.
It was also the first "Made-in-Việt Nam" vaccine exported abroad.
Liên and many of her colleagues have experienced great hardship during their working lives, as they had to conduct research and studies during the wars from 1955 to 1975.
Recalling the early days of her studies and work in the medical and vaccine industry, her eyes shine with pride.
She was initially inspired to study by her mother.
"During the war against the French (1946-1954), I was just a little girl but often accompanied my mother, who was a nurse at the time at frontline medical stations, where I witnessed her dealing with emergencies at all hours of the day," she said. "I felt a desire to study medicine when I grew up and do the same sort of work."
She did indeed study medicine and in her final year at the Hà Nội Medical University in 1965 was assigned to work at the Faculty of Microbiology and then volunteered to serve the liberation of South Việt Nam.
"A few months after graduating, I underwent training in the application of vaccine production technology at NIHE," she recalled. "I then put on a backpack and marched to the battlefield in the south with the heavy task to successfully produce three types of vaccines — cholera, typhoid, and smallpox — to prevent a 'war of germs'."
At that time, along with hunger and disease, the greatest difficulty on the battlefield was a lack of facilities for research.
"There were no laboratories and not enough materials, and life was harsh due to hunger and malarial fevers," she recalled.
"Our lab facilities consisted of an incubator for microbial nurturing, run by kerosene lamps. We had to keep the temperature at 37 degrees Celsius to grow bacteria. Artillery shells went over our heads, but we stretched out parachutes and plastic sheets to create a laboratory in the middle of the jungle."
After much effort and despite the increasing difficulties, cholera, typhoid, and smallpox vaccines were successfully produced, tube-sealed, and labelled with quality inspection stamps to provide to people in the liberated areas between the provinces of Quảng Nam and Quảng Ngãi.
"Though there were many challenges, I feel so proud to have contributed to the resistance war to save our country and protect people's health," Liên said.
Her six years on the battlefield were exhausting for the 20-something.
She weighed just 31kg when she returned to the north for treatment of her own health problems.
"I was lucky because I survived the war," she said. "So many of my comrades fell while still in their youth."
Though she received the Labour Hero title rather late in life, she was still very happy.
"During my working life, which now amounts to 54 years, I was always so absorbed that I never considered honours or awards," the professor said in an emotional speech at the ceremony. "But the title of Labour Hero truly is an honour and shows that the Party and State have recognised my efforts."
The title of Labour Hero honours individuals with exceptional achievements in innovation, contributing to the building of socialism in Việt Nam and safeguarding the country.
Addressing the ceremony, Minister of Public Health Nguyễn Thanh Long said the title was recognition from the Party and State of Prof Liên's relentless creative spirit in vaccine research and application, which has been critical for the country's efforts in combating communicable diseases and protecting people's well-being.
Meanwhile, Prof Đỗ Tuấn Đạt, Vabiotech chairman, said the title was not only a source of pride for Prof Liên but also for everyone at the company.
"This expresses the acknowledgment and interest of the Party and State in the efforts and dedication of vaccine researchers and manufacturers," he said.
Vabiotech has been working particularly hard to develop a COVID-19 vaccine as part of efforts by the healthcare sector to curb the on-going spread of the pandemic. – VNS