Place
Hanoi works to 'refresh' tourism image to lure visitors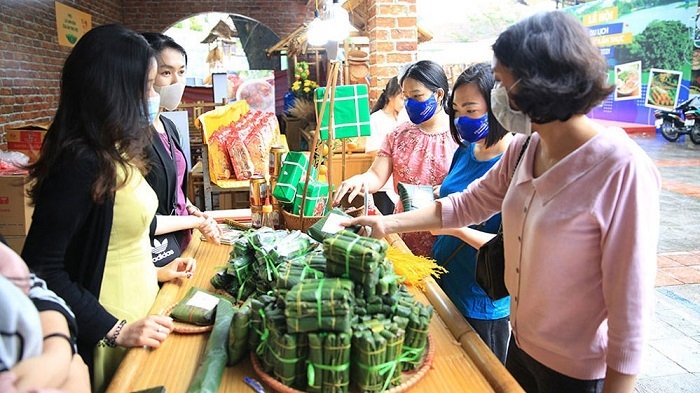 Visitors at the Hanoi Tourism and Cuisine Festival 2021 (Photo: hanoimoi.com.vn)
NDO – As one of the country's tourism markets, Hanoi is rolling every effort to 'refresh' the image of tourism to lure domestic visitors, with a focus on creating new experiences and strengthening connection with other localities to develop more attractive tourist products.
Renovating traditional tourist products
A night tour at the Hoa Lo Prison historical site was launched to provide visitors with a unique experience with a combination of sounds and lights which change as they walk through different rooms inside the prison-turned-museum.
Visitors will be filled with a range of special emotions, from sympathy for prisoners in the gruesome conditions of a colonialist prison to respect for their resolute resilience and fighting spirit for national independence.
According to head of the site's management board Nguyen Thi Bich Thuy, Hoa Lo Prison welcomes hundreds of visitors every year. The site has also chosen as a venue for extracurricular activities of many schools to educate their students about the country's revolutionary tradition and patriotism.
The management board has coordinated with travel agencies to launch two night programmes at the site, which have received much appreciation from visitors.
In addition to the night tour at Hoa Lo Prison, many other new tourist products have also been launched to welcome back visitors to the capital city, including tours to explore Thang Long Imperial Citadel, Indochinese styled buildings in Hanoi, and places of interest along Red River such as Chem and Soc temples, Bo De Pagoda, Bat Trang pottery village, and Me Linh flower village.
Of which, the tour to Indochinese-styled buildings, which is designed by travel company Hanoitourist, helps visitors to gain a closer insight into typical buildings constructed in Hanoi in early 20th century, namely the Sofitel Metropole Legend, the Hanoi Opera House, the National Historical Museum, and the Government Guest House.
Meanwhile, the Hanoi Tourism Department in coordination with tourism departments of Ninh Binh, Quang Ninh, Sa La, Thua Thien Hue, Da Nang, and Ho Chi Minh City recently debuted the 'Hanoi+' tours, which connects Hanoi with tourist attractions in the neighbouring localities.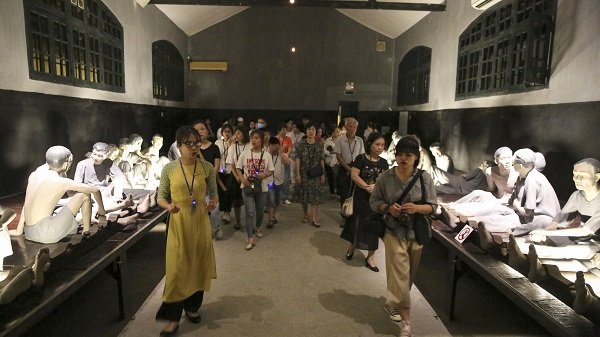 Visitors experiencing night tour at Hoa Lo Prison (Photo: danviet.vn)
Ensuring high quality at affordable prices
In order to provide travellers with high-quality tourist products at affordable prices, Hanoi's tourism sector has actively worked with, airlines, railway sector, travel associations, hotels, restaurants and management boards of tourist attractions in implementing programmes on restructuring the hospitality sector and stimulating domestic travel demand.
Director of the Hanoi Department of Tourism Dang Huong Giang said that after more than a year facing numerous many difficulties caused by COVID-19 pandemic, travel businesses want to grasp opportunities for recovery.
Therefore, the department receives enthusiastic cooperation from those operating in the tourism sector, she stated, adding that airlines have launched generous discounts for passengers, particularly for travel agents who buy tickets in bulk.
The active participation from the businesses has contributed to the building of tourism products at attractive prices while ensuring quality.
The recent Hanoi Tourism and Cuisine Festival 2021 brought together travel agents and transport businesses from 12 localities which have strong advantages of tourism, including Khanh Hoa, Binh Dinh, Da Nang, Thua Thien Hue, Quang Binh, and Ha Giang, among others. Around 1,000 tour packages were on sale at the event with prices seeing discounts of up to 25%.
However, after a year of falling in "hibernation" and facing great losses due to COVID-19, thousands of travel businesses and accommodation establishments have remained closed. Many of them have hesitated to "restart" because of worries that the risks may return.
Since then, as stated by Director of Flamingo Redtours Company Nguyen Cong Hoan, travel businesses are seeking for the State's support, particularly in terms of tax and land lease payment extensions so that they are able to return to the market.