Life
'Nature - based' farming a winner in Delta
Rice – shrimp farming fields in Bạc Liêu Province.– VNA/VNS Photo Chanh Đa
by Tôn Ánh Thu
Over the past three years, Kiên Giang Province, the Mekong Delta's largest rice producer, has restructured cultivation methods on more than 24,000ha of rice fields to adapt to climate change and improve farmers' incomes.
The farmers, who had typically planted two or three rice crops a year, switched to either rotating the cultivation of rice and shrimp or intercropping rice and shrimp. Some farmers rotated rice and other crops, and others switched completely from rice to growing fruit or other crops, or engaging in aquaculture.
The Secretary of the Kiên Giang Party Committee, Đỗ Thanh Bình, said: "These measures have increased production value of these fields by 35 per cent."
All of the delta's 12 provinces and its major city, Cần Thơ, have been able to turn more unproductive rice fields into fruit tree and other crop growing areas, or for aquaculture.
These measures were taken after Government Resolution 120 was issued in 2017, which called for sustainable and climate-resilient development in the delta.
When Việt Nam was reunified in 1975, the country's economy was one of the poorest in the world and it could not produce enough rice for domestic consumption.
After 1986, when the đổi mới (renewal) period of economic and political reform began, the delta began to develop rice production rapidly after the Government invested in large irrigation projects such as man-made canals and flood-prevention dykes with an aim to ensure food security.
With the delta's rice production increasing, Việt Nam started to have a rice surplus for export in 1989, and two years later the country became one of the world's top three rice exporters.
However, in the last 10 years, the delta has been facing the impact of extreme weather, river and coastal erosion, saltwater intrusion, pollution, and lack of fresh water because of climate change and human factors, affecting the livelihoods of millions of people.
After record-high saltwater intrusion in the 2015-16 dry season damaged more than 300,000ha of rice, the Government issued Resolution 120 calling for the delta's sustainable development to 2100.
The resolution pointed out that climate change and rising sea levels were inevitable and that delta residents must adapt to challenges by turning them into opportunities and restructure agricultural production based on "nature-based development".
To meet market demand and achieve higher production value, the resolution said that the order of importance of crops in the delta should be changed to seafood, fruit and rice, rather than rice, seafood and fruit.
After three years of implementing Resolution 120, the delta's rice area fell from 1.82 million hectares in 2017 to 1.7 million hectares last year, while its aquaculture area rose to 900,000ha from 860,000ha, and its fruit tree area to 450,000ha from 385,000ha, according to the Ministry of Agriculture and Rural Development (MARD).
Speaking at the third conference on sustainable and climate-resilient development of the delta held in Cần Thơ last month, then MARD Minister Nguyễn Xuân Cường said that agricultural production and exports had changed significantly in the delta and farmers' lives had improved.
Agriculture exports from the delta increased from US$7 billion in 2016 to $8.8 billion last year.
"This figure shows that 'nature-based development' is not only the right orientation but also is effective," he said.
The delta's GDP grew at a high rate of 7.3 per cent a year in 2018 and 2019.
The Mekong Delta is one of six deltas in the world that are severely impacted by climate change. Its coastal areas are affected by saltwater intrusion from the sea through river mouths in the dry season, while its upstream areas are usually inundated in the rainy season with floodwaters caused by the rising levels of the Mekong River.
A super – intensive shrimp pond in Bạc Liêu Province. – VNA/VNS Photo Chanh Đa
Nature-based development
In the delta's upstream provinces like Đồng Tháp and An Giang, farmers have reduced the area for rice cultivation during the flood season and have released floodwaters into rice fields for use in aquaculture and to fertilise the soil, and destroy pathogens and pests.
Last year, farmers in Đồng Tháp grew the autumn-winter rice crop, the year's third rice crop, on only 138,000ha, which was 9,000ha less than before. They instead released floodwaters into these unused rice fields.
Lê Anh Tuấn, deputy head of the Cần Thơ University's Research Institute for Climate Change, said that most localities in the delta had restructured agricultural production by considering the available water resources and the effects of climate change.
For instance, farmers no longer grow three rice crops a year and had reduced rice-growing areas in coastal areas. They had switched to farming models such as rice – shrimp, rice – fish, or shrimp – forest in coastal areas.
Last year, the delta's rice – shrimp farming area expanded to 211,900ha from 176,600ha in 2015, offering farmers an average profit of VNĐ70 million – 100 million (US$3,000 – 4,300) per hectare a year, two to three times higher than rice mono-cultivation, according to MARD.
The cultivation of the delta's new high-quality rice varieties like ST 24 and ST 25, which rank among the world's best rice varieties, is now being expanded in the rice – shrimp farming model.
Other environmentally-friendly farming models that use advanced techniques and efficient irrigation facilities have also been broadened in the delta. These include cultivation of vegetables in net houses, hydroponic vegetables, smart rice farming, organic rice farming, and super-intensive shrimp farming.
In Cà Mau Province, the delta's largest shrimp producer, areas for super-intensive shrimp farming rose to 2,800ha last year, up 12 per cent against 2019, and are expected to increase to 3,200ha this year, according to the provincial Department of Agriculture and Rural Development.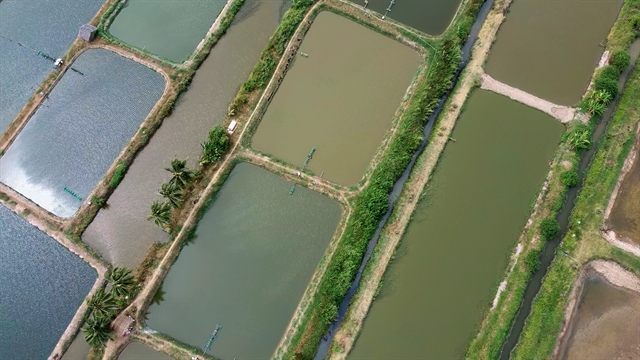 An aerial view of brackish – water shrimp ponds in Sóc Trăng Province. – VNA/VNS Photo Chanh Đa
According to Lê Thanh Triều, director of the department, Cà Mau plans to use advanced techniques in shrimp breeding to improve yield, quality, efficiency, food safety and environmental protection.
The province also plans to invest more in intensive shrimp farming, rice–shrimp and shrimp–forest farming, and shrimp farming areas that meet international standards.
About 19,000ha of Cà Mau's 280,000ha of shrimp breeding areas have been granted international standard certificates, including global good agricultural practices (GlobalGAP), Global Aquaculture Stewardship Council (ASC), Best Aquaculture Practices (BAP), and Vietnamese good agricultural practices (VietGAP).
The delta has also developed more large-scale concentrated farming areas for shrimp, tra fish, rice, fruit and other key crops. This improves production efficiency and helps to meet export requirements.
The delta's largest fruit-producing province, Tiền Giang, which has more than 80,100ha of fruit, has established many large concentrated fruit-growing areas.
In the ongoing off-season durian harvest, farmers in Tiền Giang have had an average yield of 20 tonnes per hectare and are selling the fruit at a higher price of VNĐ90,000 ($3.9) a kilogram, according to the province's Department of Agriculture and Rural Development.
A vegetable field in Tiền Giang Province has an efficient irrigation system and anti-sunlight nets. – VNA/VNS Photo Minh Trí
Developing linkages
For the 2020-21 winter-spring crop, the delta has a total of 160,000ha of large-scale rice fields in which farmers have pooled their rice fields and signed contracts with rice trading companies to guarantee outlets and stable prices.
The production cost of large-scale rice fields is 10-15 per cent less than normal fields, and the profit is VNĐ2.2-7.5 million ($94-323) per hectare higher than those fields, according to MARD.
For the 2020-21 winter-spring rice crop, the Trung An Hi-Tech Farming Joint-Stock Company in Cần Thơ signed contracts with farmers to grow rice on 1,400ha of large-scale fields without using chemical pesticides.
he General Director of Trung An, Phạm Thái Bình, said: "To develop rice cultivation sustainably, linkages among farmers and rice companies should be tightened to produce high-quality rice for export."
Farmers in the delta sell their products mostly to traders and often face unstable outlets and prices.
Võ Tòng Xuân, rector of Nam Cần Thơ University, said that farmers in the delta who switched from rice to other crops had faced difficulties finding outlets.
"When the delta is rezoned, we should identify which area will grow which crop, and with this zoning plan, we will create linkages among farmers in co-operatives, which will work with processing companies to secure outlets," he said.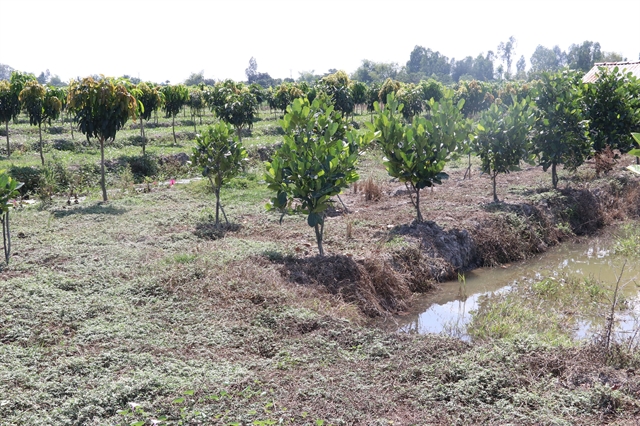 A new mango and jackfruit orchard that was formerly a rice field in Đồng Tháp Province. – VNA/VNS Photo Nguyễn Văn Trí
To develop sustainable production, the region also needs more linkages among its provinces and Cần Thơ to make farm produce on a large scale for export, and to better manage water resources for crop cultivation and aquaculture production, local authorities have said.
Although it only accounts for 12 per cent of the country's total land area, the delta produces 50 per cent of the country's rice, 65 per cent of aquaculture products and 70 per cent of fruits. It contributes 95 per cent of the country's rice exports and 60 per cent of aquatic product exports.
Huge investment in infrastructure
In the three years after Resolution 120, the Government has invested in many key infrastructure projects in the delta, such as bridges, roads, fishing ports, sea dykes and irrigation works.
The Government invested VNĐ38 trillion ($1.64 billion) to develop key irrigation projects in the 2016-20 period.
Harvesting the 2020 – 21 winter – spring rice planted under global good agricultural practices (GlobalGAP) standards in Tiền Giang Province. – VNA/VNS Photo Minh Trí
The delta's provinces and Cần Thơ have also invested in many irrigation projects, reservoirs, and saltwater prevention works.
The development of irrigation projects and the proper restructuring of crop cultivation and preventive measures have helped the delta minimise damage from saltwater intrusion and natural disasters, according to MARD.
Though saltwater intrusion in the delta's 2019-20 dry season was more severe than the record-high saltwater intrusion in the 2015-16 dry season, the damage to the rice area in the 2019-20 dry season was only equal to 10 per cent of the rice area damaged in the 2015-16 dry season.
In the 2020-21 winter-spring rice crop, farmers in the delta harvested an average yield of 7 tonnes per hectare, the highest in the past five years, and earned 45 per cent profit, according to MARD.
Farmers sowed 1.59 million hectares of rice in the winter-spring crop, down 27,210ha against last year to avoid the impact of saltwater intrusion at the end of the crop. The rate of high-quality rice varieties accounted for 77.5 per cent of the winter-spring crop, up 1 per cent against last year.
Rope conveyors transport harvested dragon fruit at the orchard of the Thiên Phúc Co-operative in Tiền Giang Province. – VNA/VNS Photo Nguyễn Hữu Chí
Lê Thanh Tùng, deputy head of MARD's Plant Cultivation Department, said the delta had properly readjusted the proportion of planted rice varieties and the cultivation of rice and other crops, and reduced the areas under the winter-spring rice crop in places with water shortages.
"Though saltwater intrusion has been more severe this year, there has been no damage to rice and other crops," he said. VNS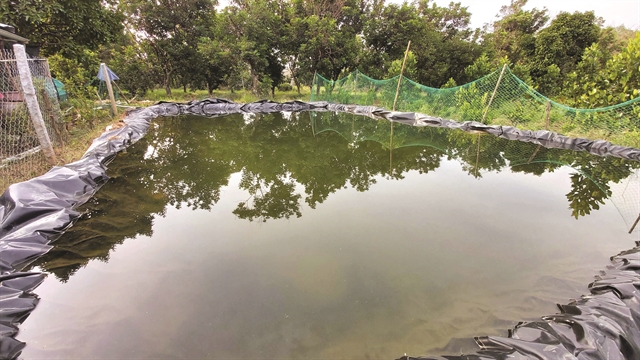 An orchard pond stores irrigation water in Bến Tre Province's Chợ Lách District. – VNA/VNS Photo Trần Thị Thu Hiền
Mekong Delta seeks transport infrastructure investment
The Mekong Delta needs about VNĐ198.8 trillion (US$8.57 billion) to develop transport infrastructure in the 2021-25 period, according to the Ministry of Transport.
The ministry has petitioned the Government to allocate the delta at least VNĐ57.3 trillion ($2.47 billion) to invest in key transport infrastructure projects like expressways and large bridges, and the upgrading of some national highways during the period.
It plans to call for private investment in other transport projects in the delta, including the Trần Đề deep-water seaport in Sóc Trăng Province accessible to vessels of up to 100,000 tonnes.
The delta lacks a well-connected transport system as well as logistic centres, warehouses and a deepwater seaport, which has led to higher costs for logistic services for export.
The region exports 17-18 million tonnes of rice, seafood and fruit a year, and 70 per cent of the goods have to be transported to seaports in HCM City and Bà Rịa-Vũng Tàu Province for shipping overseas, which has increased transport costs by 10-14 per cent, according to the Sài Gòn Newport Corporation. VNS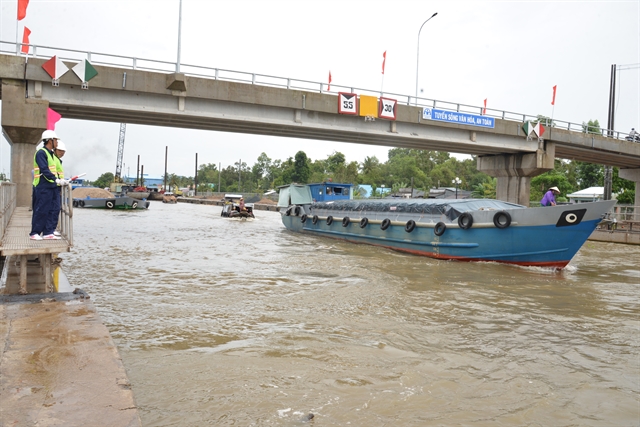 Ninh Quới Ship – Lock Sluice in Bạc Liêu Province opened in October last year. The sluice regulates saltwater and fresh water, and prevents flooding in Bạc Liêu, Hậu Giang and Sóc Trăng provinces. – VNA/VNS Photo Nhật Bình