Life
Riverside village offers 'world learning' experience for students
by Công Thành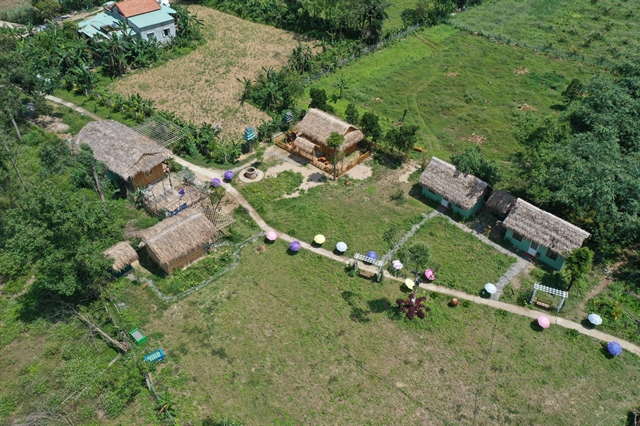 Bungalows on the Cu Đê riverbank host families and groups of friends in Đà Nẵng. The site also offers 'world learning' for college students in central Viêt Nam. VNS Photo Trần Lê Lậm
Forty kilometres west of Đà Nẵng along the Cu Đê River, Nam Yên Village in Hòa Bắc Commune has emerged as a popular destination for community-based tourism and education among city day-trippers eager for tranquillity at the weekend.
The village of 2,000 is home to nature, traditional culture, 'green' living and a 'world learning education programme' – an approach to outdoor activities and practical lessons for college students.
The field education programme, initiated by the University of Science and Education under Đà Nẵng University in 2014, has provided courses for thousands of students from colleges and universities in the city to help them explore natural heritage, from rural mountainous to coastal areas in central Việt Nam, as well as offshore islands.
"It's an exciting practical education course. Students enjoy free outdoor space rather than sitting in classrooms," said Dr Chu Mạnh Trinh, a nature conservationist.
"Students can experience things they could only see on screen at college. Young students learn and practise skills from farmers, fishermen, craftsmen and gardeners, who act as field lecturers."
Trinh, who guided the 'world learning course' for students in central Việt Nam, explained the course was seen as a knowledge and skills exchange between farmers and students.
"Farmers often rely on their traditional, ancestor-inherited skills and practices, but they have not yet applied scientific innovation in boosting crop yields. The course will fill in this deficiency of knowledge for farmers."
Paddy-field class
Students of Đà Nẵng University during a 'world learning programme' in Nam Yên Village of Hòa Bắc Commune in Đà Nẵng. The programme has helped students gain valuable knowledge. VNS Photo Công Thành
Đỗ Thị Huyền Trâm, 37, a villager in Nam Yên, has set up a homestay service and become a 'world learning course' destination and a cross-culture rendezvous for the Cơ Tu ethnic villages.
"I built a home to host groups of 20 students from the 'world learning programme'. The home also helps link the ethnic Cơ Tu community in Tà Lang and Giàn Bí villages – 7km from Nam Yên village," Trâm said.
"Local farmers from the three villages have started 'green living' practices with waste treatment and organic farming. Villagers have gradually recognised the importance of protected water related to safe water supply in Đà Nẵng," she said.
Trâm said local farmers had gradually reduced the use of chemical fertiliser in agriculture by boosting composting and bio-fertiliser for crops.
Trần Thị Anh, 50, makes her living from her 1,000sq.m organic fruit garden while feeding her family of four – she and her husband both have disabilities.
She said local farmers only farm using skills, but lack post-harvest technology and produce marketing.
Knowledge exchange
Mai Thị Hồng, 21, who is a third-year biology student at Đà Nẵng University of Science and Education, said the course was useful due to the practical approach.
"I could understand how organic farming works. Herbs could be used as effective bio protection in the garden. We know exactly when to sow seeds and fertilise crops to get bumper harvests," Hồng said.
"We suggested solutions for sustainable farming and community-based tourism in the village after the course. Rice paddy-based practices and rural lifestyles could help villagers earn more after harvest," she suggested.
"The rural scenery and crafts of the village will be an attraction to tourists on weekend trips."
Nguyễn Ngọc Lương, a student in the 'world learning course', said she learnt a lot about organic farming from gardeners.
"We were given explanations on how farmers rotate crops. Bananas and nuts provide not only leaves and fruit, but fertilise soil for other plants. Local farmers also provide pest killing experience by keeping ants in the fruit garden, while luring birds and pest eaters to build their nests in the garden," she said.
A new check-in site is built in the middle of a rice field in Nam Yên village. The rural area has been developing community-based tourism and farming skills. VNS Photo Đỗ Trâm
Đỗ Viết Vỹ, 58, who owns a homestay service in the village, said architecture students helped him design and decorate the house.
"They added modern features to a rural house as it is convenient for the owners and visitors," he said.
Dr Trinh said practical experience would help students gain a real view of the consequences of climate change in rural life.
He said students could offer climate change resilient ideas for local people in terms of building houses, disaster mitigated crops and improving community capabilities.
"Lessons and experience from the course would help students build sustainable solutions for the community in organic farming, forest protection, species conservation, waste treatment and protection of water," he said.
"Scientific studies now and later on will be a basis for building a chemical-free zone in the village and community-based tourism in the near future.
"The village and rural areas in Đà Nẵng will be one of a series of destinations for the 'world learning programme' including Hội An, Chàm Islands in Quảng Nam Province; and Lý Sơn Islands, Sa Huỳnh and Bình Sơn of Quảng Ngãi."
People enjoy kayaking along the Cu Đê River in Hòa Bắc Commune, 40km from Đà Nẵng. The riverside is one of the most popular 'green living' experiences near Đà Nẵng. Photo courtesy of Trần Thị Tuyến
Vỹ said the village, situated in the buffer zone of two nature reserves of Bạch Mã in Thừa Thiên Huế and Bà Nà Núi Chúa of Đà Nẵng, has a lot of potential for eco-tour services and afforestation.
Nam Yên Village has been building links with villages of An Định, Lộc Mỹ, Tà Lang and Giàn Bí, Yên Retreat in a complex of crafts, farm tours and community education tourism along the Cu Đê River.
Young students from Đà Nẵng learn how to map a heritage plan of a rural village and farming life skills from a 'world learning' programme. VNS Photo Công Thành
Trâm said community-based tourism in the village needs time to turn farmers into service providers.
She said the local community received funding from the United Nations Development Programme (UNDP) through the Global Environment Facility (GEF)'s Small Grants Programme to promote the preservation of culture and conservation of the Bà Nà Núi Chúa nature reserve. VNS