Life
Swimmer Tùng aims to shine at Paralympics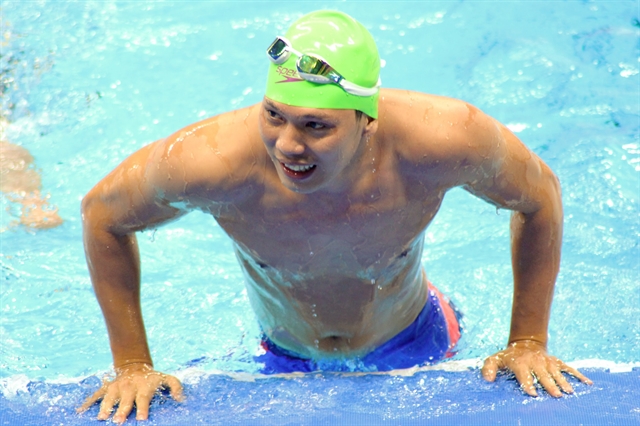 Swimmer Võ Thanh Tùng has been elected as the outstanding disabled athlete of the country for 10 years in a row. — Photo tienphong.vn
Swimming
By Lâm Giang
Swimmer Võ Thanh Tùng, 35, has been one of Việt Nam's top disabled athletes for the last 10 years, and he has no plans to slow down.
Throughout his 16-year career, the wheelchair-bound Tùng won a Paralympic silver medal in 2016 and secured the top position in short course races in many Asian Para Games. He has won more than 200 medals from tournaments both domestic and international.
Tùng feels satisfied with what he has achieved but is still determined to push for more glory.
"I am very happy and proud to be the outstanding disabled athlete of the country for 10 years in a row. I had been trying to train and compete hard for the past 10 years," Tùng told Việt Nam News.
"Now, it is time for me to look towards the upcoming Paralympics in Tokyo this August," said Tùng.
"I qualified to compete in the men's 50m freestyle, 100m freestyle and 100m backstroke. My goal is to defend my silver medal which I gained in the last Paralympics in 2016 in Brazil and maybe I can change my medal colour," he added.
Tùng said he and his teammates are working hard to prepare for the Paralympics and the pandemic hasn't done anything to hurt their determination.
Currently, Tùng is under the management of the Đà Nẵng Sports Training Centre but has been allowed to return to Cần Thơ Province to train to be near his family.
Tùng focuses his training on his favourite races, namely 50m backstroke, 50m freestyle and 100m freestyle. Besides training, he tries to get enough rest to ensure he has a strong mentality.
"To defend my silver medal in this Paralympics, I need to put more effort into my exercises, as well as my upcoming competition schedule," said Tùng.
"I have competed in many races so I have gained a lot of experience. Moreover, in terms of nutrition, my teammates and I always work to the doctor's advice, so it is completely enough to complete the heavy training schedule from the coach.
"In addition, the training area is well equipped with physical facilities and equipment, so I don't worry about training wrong or too much. I only need to focus on training and have a good mentality to look forward to the upcoming Paralympics," said Tùng.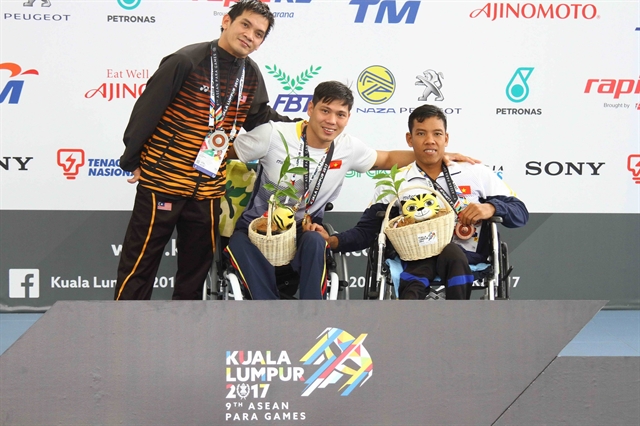 Swimmer Võ Thanh Tùng (middle) seen at the ASEAN Para Games 2017 in which he won three golds and broke two records. Photo webthethao.vn
Most memorable event
"Only winning a medal can write history" was the slogan of the Vietnamese swimming team at the Paralympics in Brazil in 2016.
Bravery, passion and relentless efforts helped Tùng write his name in Paralympics history with a silver medal in the men's 50m freestyle. He also broke his own Asian record.
"When I finished second, the audience cheered, and I saw the Vietnamese national flag held high across the stands. At that time I was very happy, I felt that the national spirit at that time was even more precious than the medal," Tùng said.
The Rio Paralympics 2016 was an unforgettable milestone in Tùng's life so he named his first son Rio to always remember that special moment.
Achievements
Tùng has competed as a professional athlete since 2005 and at the national championship in the same year, he won two golds and one silver.
In 2009, Tùng was called up to the national swimming team, starting a new journey with lots of glory and many challenges.
Tùng won one gold and one silver at the Asian Para Games 2010. Four years later, he bagged five golds and set two records at the Asian Para Games in 2014.
After the silver medal at the Rio Paralympics in 2016, Tùng dominated the continent's short swimming races with three more gold medals and two silver medals at the Asian Para Games 2018, breaking three Asian records in the 50m backstroke, 100m freestyle and 200m freestyle.
In the World Para Swimming Championships 2017 in Mexico, Tùng brought home the bronze in the 100m freestyle. He also won the bronze in the 50m freestyle in the world championships in Scotland in 2015.
At the ASEAN Para Games, Tùng took yet more golds for Việt Nam. At the ninth ASEAN Para Games in Malaysia in 2017, he brought home three gold medals and broke two Southeast Asian records.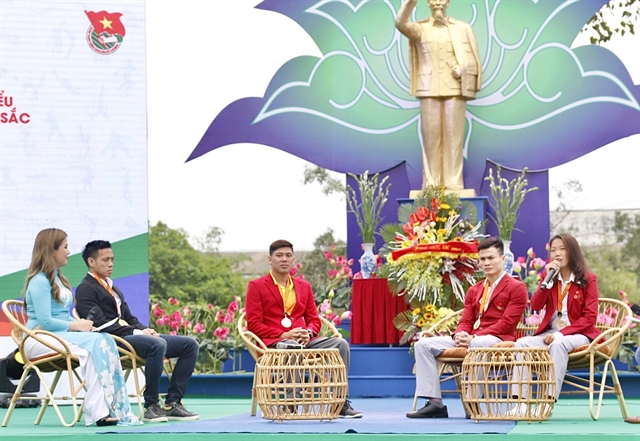 Swimmer Võ Thanh Tùng (middle) seen at the ceremony to honour outstanding athletes, coaches, and disabled athletes and coaches for disabled athletes hosted by the Ministry of Culture, Sports and Việt Nam Sports Administration in March this year. Photo courtesy of Võ Thanh Tùng
Efforts
At the age of six, Tùng suffered from polio, leaving him in a wheelchair.
Sports officials in An Giang Province soon saw Tùng's talent for swimming after he learned to love water by swimming, diving and fishing to help his family.
From that river region, with his determination, Tùng has gone on to compete in world and continental events, bringing glory to Vietnamese sport. VNS