Life
Truffle tuna ceviche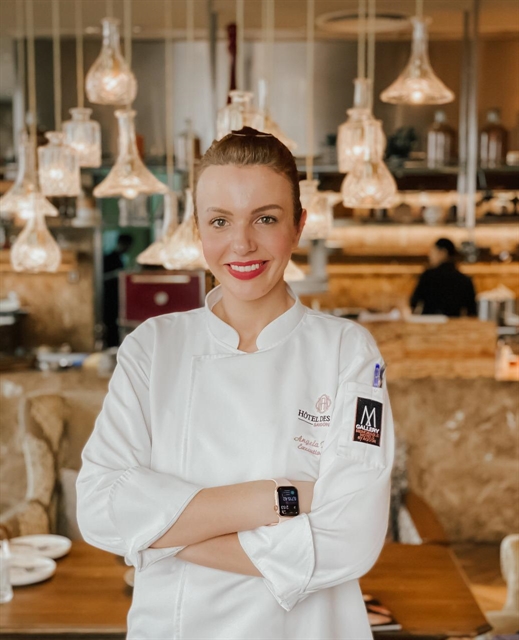 Executive Chef Angela Brown
with Executive Chef Angela Brown from Hotel des Arts – MGallery Collection
Let's treat your family and friends with a very luxurious recipe using truffles. The French tuna salad is not only refreshing but also blows your mind with its aroma. The aroma of truffles will evoke your emotions while your tastes are refreshed with the lemon dressing, lovely smoothness of truffle paste and a little bit of spiciness from the spicy mayonnaise. A great start for a lovely dinner.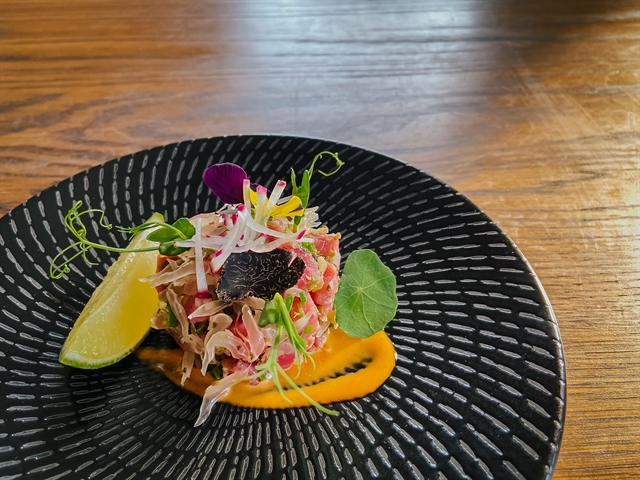 Truffle tuna ceviche
Ingredients:
Ceviche (8-10 portions)
Fresh tuna loin 0.5kg Shallot 50gr
Pomelo 70gr Gherkin 30gr
Caper 30gr Spring onion 10gr
Lemon dressing (as below) 40ml Truffle Paste 5gr
White Truffle oil 2gr Baby pink radish 10gr
Salt 2gr White pepper (by mill) 2gr
Winter or summer truffle (seasonal) 5gr
Lemon dressing (for 20 portions)
Lemon (juice of) 50gr Pommace oil 200gr
White wine vinegar 10gr Seeded mustard 10gr
Sugar 2gr Salt 2gr
White pepper (by mill) 1gr
– Juice the lemon and remove any seeds or segments.
– Add the mustard and vinegar and mix well.
– Add the oil slowly, whisking as you go so it does not split. You can use a hand blender also if you have one.
– Finish with sugar, salt and pepper.
– Taste the seasoning and adjust if needed.
Spicy mayonnaise (20 portions)
Japanese mayonnaise 170ml Homemade mayonnaise 220ml
Condensed milk 700ml Tomato ketchup 700ml
Sriracha sauce 200ml Lemon juice 20ml
Kikkoman soya sauce 40ml Cajun chilli powder 2gr
Gochujang chilli paste 30gr
Viola, nasturtium leaf & pea tendril to garnish
– Mix all the ingredients together well.
– Taste and adjust seasoning if needed.
– Place into a squeeze bottle.
Method:
– Clean and cut the tuna loin – removing all the skin, bone and sinew. Cut the loin evenly into 0.5 x 5cm pieces.
– Remove the pomelo meat from the pomelo and separate all segments.
– Finely chop all the shallot, gherkin, capers, spring onion and keep separately.
– Finely julienne the pink radish and keep in iced water.
To mix the ceviche
– Place tuna, shallot, pomelo, gherkin, caper & spring onion into a bowl and combine all. Do not over mix.
– Add the lemon dressing, truffle oil, truffle paste and seasoning. Mix one more time gently to combine all.
– Taste and adjust seasoning if needed.
– Plate as per the photo and decor with local leaves, flowers, radish and fresh seasonal truffle.
– Serve immediately otherwise the acid will cook the meat and the texture will change.
Discover the rich flavour of this delicious fungus every Tuesday (7-10pm) with "Truffle Tuesday" at Social Club, Hotel des Art – MGallery Collection, 76-78 Nguyễn Thị Minh Khai St, Dist 3, HCM City, Tel: (+84) 28 3989 8888. The buffet starts from VNĐ890,000. VNS