Place
VGreen Caravan tourism programme launched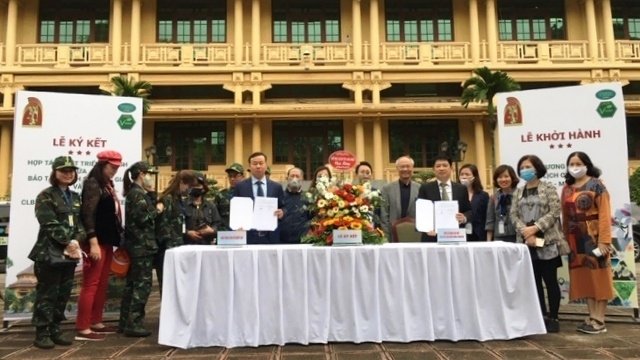 At the ceremony
NDO – VGreen Caravan tourism programme themed 'Northwest – Ban (Bauhinia Variegata) Flower Season', with many meaningful activities to build and develop high-quality, distinctive and sustainable tourism products, has just been launched with the starting point of the Vietnam National Museum of History.
From the information provided at the museum, the journey takes visitors to explore many different places on the Northwestern road during the ban blooming season, such as Ngoc Chien – Mu Cang Chai – Tam Duong – Lai Chau – Dien Bien – Quynh Nhai – Son La – Hoa Binh.
The programme received the participation of a large number of tourists, with a scale of 25 cars and 150 people. Participants must comply with strict requirements on safety, epidemic prevention, relic protection, plastic waste limitation, nature protection, community support for tourism.
This type of self-drive tourism is organised with the cooperation of many travel businesses, with the main criterion of promoting historical, cultural and social values, environmental protection and sustainable economic efficiency.
The programme is one of the contents of the cooperation agreement between Hanoi Travel Association, VGreen Sustainable Tourism Club and Vietnam National Museum of History, which was signed at the ceremony in Hanoi, on March 12. The cooperation agreement is an activity aimed at overcoming the effects of the Covid-19 pandemic through the promotion of domestic tourism.
Accordingly, the Hanoi Travel Association – VGreen Sustainable Tourism Club and the National Museum of History agreed to cooperate in implementing a number of main contents including: Cooperation to build and develop different tourism products basing on the strengths of each side; training human resources to participate in product development and implement the contents of the tourism cooperation programme; promoting tourism products in domestic and international markets in the future; and coordinating the implementation and provision of tourism services, connecting with other localities, and spreading historical and cultural values to tourists and people.